Have Classic - Will Cruise
Regular membership meetings are held the 2nd Thursday of each month 7 PM Slovak Legion
All Eventss are postponed due to Covid-19 til further notice!!
Regular member dinners are held the 3rd Saturday of each month during the winter months!
Contact Tammy Eckman for times and places
Patrick Wilsons Canadian Tire Cruise Nights thursdays 6-9 May-Sept
John Trevisanutto is having a Cruise Night Tuesdays 6-9 Old Lowes Parking lot starting the tues after Patrick Wilsons starts.
2020 EVENTS Covid-19 Pending!!
NOCC Mothers Day Run NOCC Members Only Tony Romas Sat May 9 Cancelled
Princeton Car Show Princeton Mn Sat May 17 Cancelled
Mopars in the Park St Paul Mn June 5-7 Cancelled
TB Vintage Sports Car Club Kenora Ont June 11-13
Back to the 50's St Paul Mn June 19-21 Cancelled
Swap Meet TBD Postponed
Half-Way Motors BRP Cruise Brp/Napa Wed July 1
Minute Muffler Car Show Minute Muffler Sat July 11
NOCC Car Show Slovak Legion Sun July 12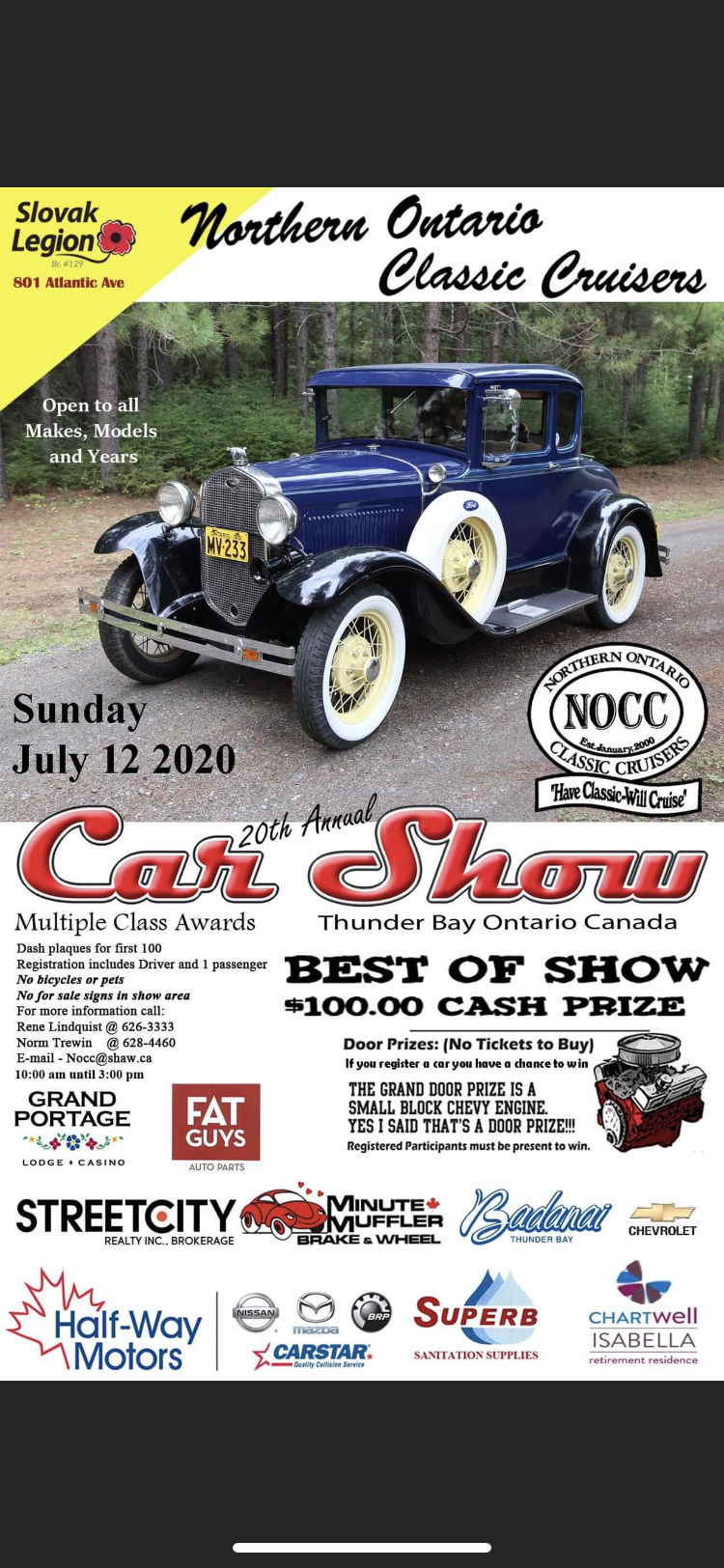 Poker Run Slovak Legion Sat July 18
Street Machine Nationals St Paul Mn July 17-19
Fat Guys Car Show Fat Guy's July 25
Terrace Bay Dragfest Terrace Bay July 31 , Aug 1 & 2
Kevin Stieh BBQ 1400 Dawson Rd Aug 8
Daniw BBQ NOCC MEMEBERS ONLY 467 East Floral Beach Aug 15
Thunder at the Bay CLE Fairgrounds Aug 22-23 Cancelled
NOCC Corn Roast Ray & Barb Boucher Sat Aug 29
Intercity Rumble CLE Fairgrounds Sun Aug 30
Mahtowa Car Show Mahtowa Mn Sept 5-7
Nipigon Car Show Nipigon Sept 6
Mosquito Speedway Nolalu Ont Sept 18-20
Grand Portage Casino Car Show Grand Portage Mn Sat Sept 26
NOCC Fall Colour Tour NOCC Members Only TBD Sat Oct 3